Marshall, Minn. — Four individuals who have been supporters of the Pride in the Tiger Foundation in various ways will be inducted into that organization's Hall of Honor on October 29.
The Pride in the Tiger Foundation honors individuals in three categories every two years. The pandemic recently delayed that every-other-year schedule.
Individuals are selected in three categories: Community members, alumni, and past Marshall schools staff.
This year's honorees include:
•Community members: Siblings Mike Fox and Jennifer Johnson
• MHS Alumni: Gary St. Aubin
• Past Marshall Schools Staff: Dennis "Red" Schroeder
The induction ceremony will take place at the Marshall Golf Club on Oct. 29. Social hour is at 5 p.m., and dinner at 6 p.m.
Tickets are $30 per person. Please RSVP to Krista Bjella, 507-532-6920, extension 1009; PITF@marshall.k12.mn.us or contact us here.
Mike Fox and Jennifer Johnson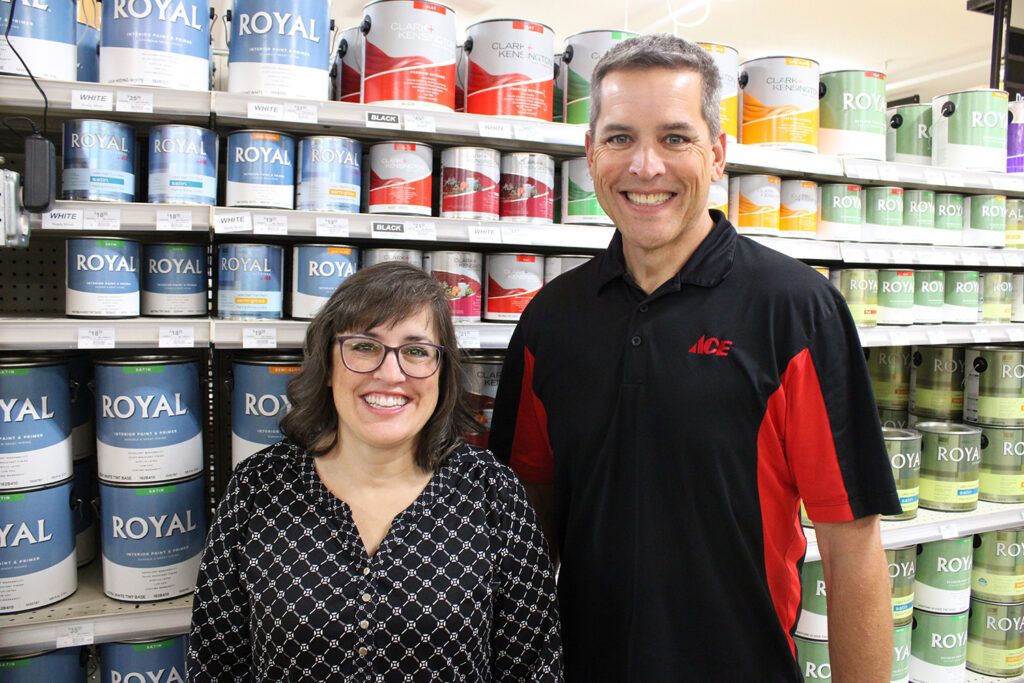 Mike Fox and Jennifer Johnson are third-generation co-owners of Ace Home & Hardware in Marshall and active supporters of Marshall High School, and the Pride in the Tiger Foundation.
Their grandfather Roy Fox bought into the business in the early '60s, back when it was Galanter Lumber. Bob Carr was a co-owner. Their father Raymond bought out Roy in the early '70s, and Mike and Jennifer bought their father's interest in the business nine years ago. James Carr, Bob's son, is also a co-owner of Ace.
Mike is a 1993 MHS graduate, and Jennifer graduated in 1989. They grew up, literally, in the aisles of the store, which was called True Value until seven years ago, when it became affiliated with Ace. "I worked on the sales floor, I think I made $2.25 per hour, and used to mow the boulevard," recalls Fox.
The move to Ace has allows the co-owners to carry unique and quality product lines, including flooring, paint, windows/doors, beer/wine making products, a full line of grills, and Hallmark cards. There's also a full-service lumber yard. What sets their business apart? "Service," both agree. Ace Home & Hardware has been a Founding sponsor for the Foundation for many years, and its $5,000 sponsorship helps support Teacher Impact Grant initiatives in all of Marshall's schools. Along with this generous support, Ace provides prizes and participates in the annual PIT Golf Classic fundraiser. Mike and Jennifer support the community of Marshall through their generosity and participation in many community events. As alumni, they exhibit what it means to give back to the community they grew up in.
"We are both alumni and want to see students have every opportunity to go on," said Fox. "These are good kids, and this is a good community. We hope they come back to the area."
"We want to see the area grow, and succeed," said Johnson.
In fact, Marshall Public Schools Superintendent Jeremy Williams used to work at the store.
The civic-minded couple works hard to keep abreast of industry trends, which recently includes more online shopping. They are concerned with the labor shortage in the area, a challenge that's becoming more obvious in recent years. To help meet that challenge, Fox is a participant in the Lyon and Murray County CEO Program. Based at Marshall High School, it includes a number of area business leaders talking to and mentoring students about the world of business. Students must apply for the program, and Fox hopes they find an interest, and return to the area. He encourages students to go on for an education, but that education can also include trade schools.
They have a sister, Julie Fox, a forensic scientist with the Minnesota BCA. Mike and his wife, Dr. Jessica Fox, have a daughter, Morgan, in chiropractic school. Jennifer and her husband, Joshua, have two children, Jacob, an MHS sophomore, and Abigail, a junior.
Gary St. Aubin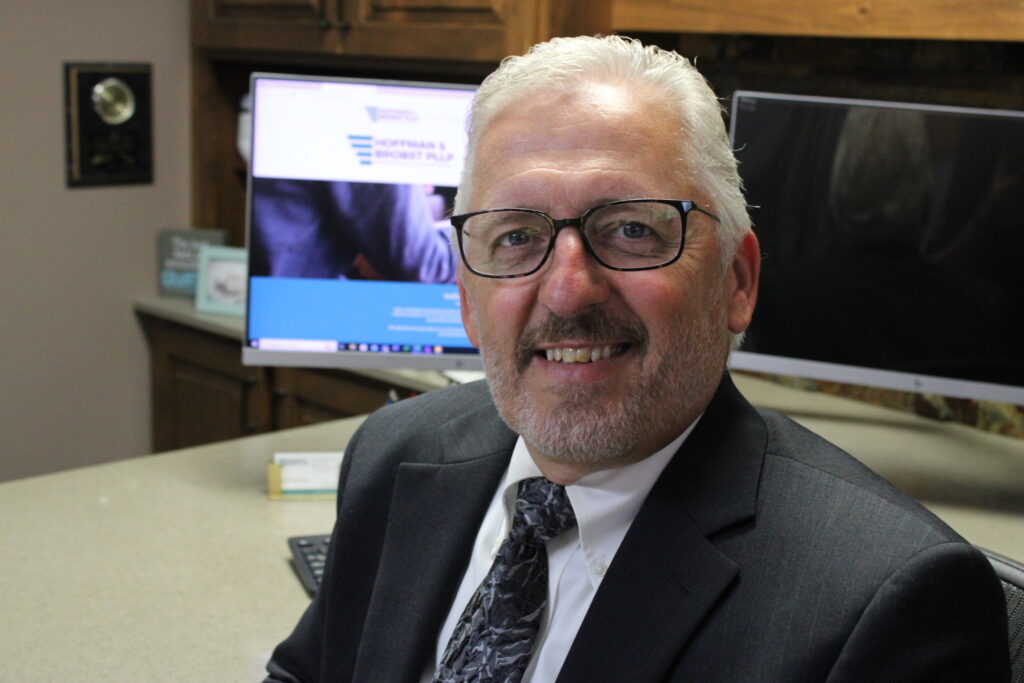 Gary St. Aubin has been affiliated with the Pride in the Tiger Foundation since its beginning in 1999.
St. Aubin is the managing partner for the Marshall accounting firm Hoffman & Brobst, where he's worked since 1982, after graduating from Southwest Minnesota State University with a degree in accounting.
In the early years of the Foundation, he did the yearly audit as well as being the Foundation's accountant. New rules have since precluded him from doing the annual audit. He remains a valued accountant and advisor to the PIT Foundation, and someone who has quietly contributed to its steady growth over the years.
He graduated from Marshall High School in 1978 and from SMSU in 1982 and was instrumental in getting the Foundation established. Former MHS Superintendent Tom Tapper and Karen Wiener, who lost a son in an accident that year, started the Foundation when Wiener wasn't sure what to do with the many memorials given to the family in her son Matthew's memory. It was Tapper who suggested the creation of a foundation. MHS also receives donations annually for scholarships from many donors.
That initial $100,000 that started the Foundation has grown to an endowment of over $3 million, thanks in great part to several large contributions over the years. Last year, $194,000 in scholarships were awarded to graduating MHS seniors. Additionally, $90,000 in educational grants for worthwhile programs and initiatives were awarded to Marshall schools, both public and private.
"It's been gratifying to see how the Pride in the Tiger Foundation has grown over the years, and the good that it does for the schools in Marshall, and graduating seniors," he said.
St. Aubin and his wife, Wendy (Schultz), are the parents of three daughters: Courtney Blomme, Marshall; Melissa Nissen, Eau Claire, Wis.; and Brandi Lahn, Bemidji. They have six grandchildren.
St. Aubin knows first-hand how important scholarships are. All three of his daughters received Pride in the Tiger scholarships.
Wendy is also a 1978 MHS graduate. The two started dating their senior year. She worked as a corporate accountant for Schwan's for about 10 years and did some home day care after that. St. Aubin is appreciative of the support he has received from Wendy. "She covers the bases with the kids and family and is supportive of what I do," he said.
St. Aubin's mother, Lilianna, worked for Brian Hoffman's father, one of the founders of Hoffman & Brobst, another tie to the firm's past. St. Aubin's professional abilities and continued commitment to the Pride in the Tiger Foundation have contributed greatly to its growth.
Dennis Schroeder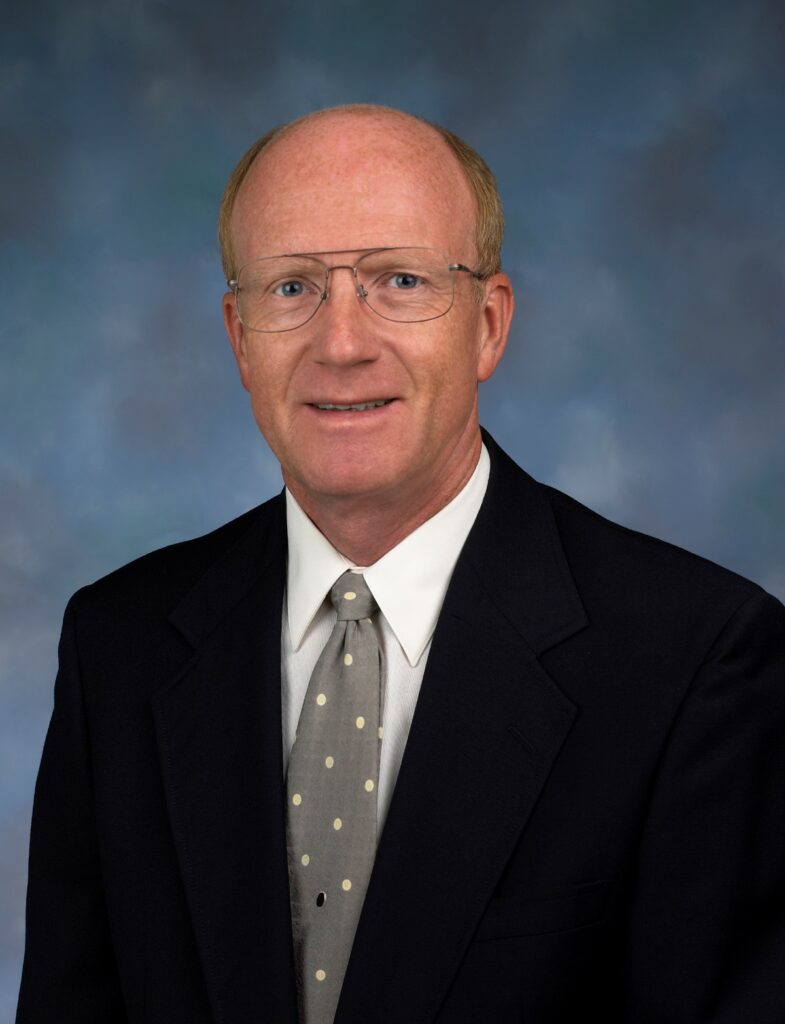 If you're going to familiarize yourself with retired educator Dennis Schroeder's career, you'd best give yourself some time. The list is long, and impressive.
Schroeder spent 46 years as a teacher before retiring in 2015 and is responsible for greatly expanding the vocational agriculture curriculum at Marshall High School. He taught at MHS from 1973-1985, following short teaching stops in Baltic and Salem, S.D., and with the U.S. Army Quartermaster Corp. He was an adjunct instructor at Southwest Minnesota State University from 1995-2003. For the final 20 years of his career, he was involved with Adult Farm Business Management education through Marshall Public School and, later, Minnesota West Community and Technical College, when it took over the program.
He was a charter member of the Pride in the Tiger Foundation Board of Directors.
Schroeder brought a vision with him to Marshall, and quickly went about expanding the classroom ag opportunities. "Originally it was a production agriculture program," he recalls. He expanded the ag program in 1973 to include agricultural mechanics and horticulture, and in 1975 wildlife and natural resources were added. He was involved in the construction of a new agricultural mechanic's shop and the horticultural greenhouse. He was the FFA advisor at that time and that group received the National Chapter Award, the Building Our American Communities (BOAC) Award and Safety Award each year for their chapter activities. In 1988, the chapter received the state BOAC Award.
His list of individual honors includes, among others: induction into the state FFA Hall of Fame; MHS Teacher of the Year; Governor's Award, Star Award Program for Technology; Minnesota State Agri-science Teacher of the Year; Minnesota Association of Agricultural Educators (MAAE) president, past president and Agriculture Teacher of the Year; founding board member, Minnesota Agricultural Educational Leadership Council; National Region 3 ACTE Teacher of the Year; NAAE Region 3 National Post-secondary Program of the Year; Minnesota West Jackson Campus Teacher of the Year; and the MAAE Teach Mentoring Award.
He grew up on a farm west of the Marshall airport and was a key player on the Marshall 1963 state championship basketball team. Red, as he was called in high school, married his high school sweetheart, Marcia (Moore), who has an elementary teaching degree. They have two children, Erin Hippolyte, Fairmont, W. Va., and Erik Schroeder, Whitefish, Mont. They have five grandchildren.
He lettered in basketball, football and track at MHS and had a keen interest in music, an interest that continues today. He plays several instruments and sang in many school groups in high school and, after, with the male quartet, The Gospel Four, for more than 10 years. He has served as church treasurer, choir member, youth director, worship leader and administrative board member for the Albright United Methodist Church. He was the M Club treasurer for 16years, supporting high school athletic activities. For the past 20 years he has been coordinating music and worship for Southwest MN Cursillo, along with serving as music/worship leader for Cornerstone United Methodist Church.
He's humbled to receive the award. "I was blessed to be a part of the educational system serving Marshall and surrounding communities," he said.
Join us in honoring these inductees at our Hall of Honor Banquet. Get a ticket HERE.